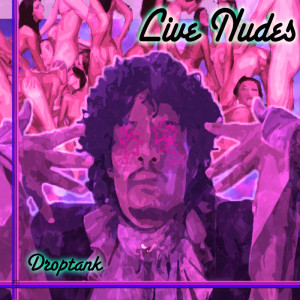 Live Nudes – Droptank 
Psoarearsis Recordings is proud to present the debut album for Sydney based duo Live Nudes, titled Droptank. Originally titled 'Two Dumb Cunts, Twelve Shit Songs', Droptank presents low quality song writing at its finest. The duo present an array of styles concocted in a haphazard manner, ranging from overdriven guitar rock and noise to sparse ambience. The recording relies heavily upon drum machines and synthesisers coupled with guitar and bass making the end result an abrasive ear bashing from start to finish. If obnoxious high friction audio is what you are after, then this one is for you. Live Nudes, Droptank, grab a copy today. Its free, you may as well.
Instruments: Guitar, Bass, Drums, Synthesizers, Sampler, Software Instruments, Percussion.
Performed by: Tim Eldridge & Sam Fletcher
Artwork: Sam Fletcher
Track Listing
1. Split The Whisker 1:52
2. Spread The Seed 4:02
3. Prada Willi 4:11
4. Smell My Finger 3:10
5. Scrotum Pole 3:21
6. It Bled From The Anus 4:40
7. Sex My Fuck 5:09
8. Fuck Me In My Back Fat 3:48
9. Sex Fight 6:05
10. Forced Entry 3:44 
11. Fist Me While I'm Shittin' 3:43
12. Breast Milk 8:30
Total Time: 52:31 Release: January 2014
Live Nudes – Droptank on Soundcloud
Live Nudes – Droptank on Bandcamp
Live Nudes – Droptank on Myspace